'Twas the afternoon before Halloween and all you could hear was over a thousand people celebrating the holiday's cheer… The food tents were set up on Conroy Street with care, in hopes that all our Green Heart friends soon would be there.
As the clock struck noon on Sunday, October 30th, we were amazed at the already significant line we had waiting to get into Revelry Brewing Company's RED Block Party and second anniversary.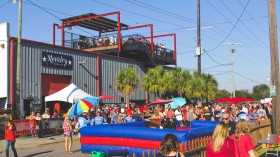 Conroy Street had been blocked off and held an amazing assortment of fun activities, jamming bands, delicious food and a great selection of refreshments. Charleston Fun Factory's mechanical bull was in full swing. Compost Ranger volunteers assisted with pumpkin carving activities. Pick'n'Roll, Deadwin, & Danny May jammed on the main stage providing a great acoustic addition to the scene. The food choices were plentiful and it was hard to decide whether to get a delicious lobster roll from 167 Raw, a few delicious tacos from Mex1 Coastal Cantina, some good old southern barbecue from Hometeam BBQ or Lewis.  Butcher & Bee, Edmunds Oast, Obstinate Daughter did not disappoint and King of Pops and Fluff Co. Cotton Candy were there spinning and slinging treats!
As the afternoon went on, the number of people continued to increase and the assortment of red and costumes increased as well. Our very own Cat Brantley rocked her White Rabbit costume from Alice in Wonderland while her twin sister Dot channeled her inner Rafiki, from the Lion King, as they worked the ticket booth under a hot October sun. The crowd was scattered with people (and dogs!) rocking their own Halloween costumes as well. People also made sure to show their big Green Hearts by wearing their Green Heart stickers proudly on their chest.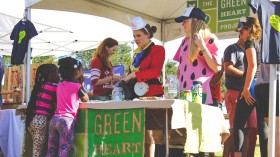 All was in the spirit of Halloween and to celebrate Revelry's 2nd year in the community!  But further, because the guys at Revelry Brewing Co. would rather toot someone else's revelry horn than their own – the party was also a fundraiser to raise money for the Green Heart Project and our school garden programs we sustain, not only right across the street at Meeting Street Academy, but at Mitchell, Sanders-Clyde, Meeting Street Elementary @ Brentwood and Sullivan's Island!
If you couldn't judge by just being there – the numbers showed that the RED 2 Year Block Party was an astounding success.  As we were hoping to see 1,000 people, we saw 1,375 which raised a whopping $12,855 for the Green Heart Project!
The success would not have been nearly as successful without the support of all the amazing event sponsors or without Revelry Brewing Co. who organized and put on this incredible event. We also could not have done it without our awesome Green Heart friends to decided to come out, celebrate and support!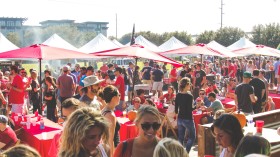 A huge load of #GreenHeartGratitude for all the people involved! We're already excited for next year!
Thank You Sponsors:
GREEN SPONSORS:
URB Architects
RED SPONSORS:
Comments on this post