Event Registration
Le Creuset Factory-to-Table Sales Event
Description: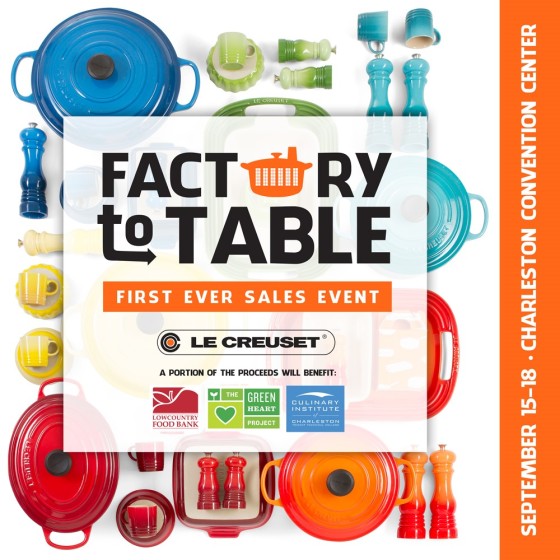 WHAT:  Le Creuset, maker of the world's most trusted and treasured premium cookware, is proud to announce the first ever Factory-to-Table sales event.  The event will feature special discounts on a large selection of Le Creuset products from around the world, including colors and shapes rarely seen in the American marketplace.  Local chef appearances, daily deals and drawings, activities for children and more will take place throughout the event.
WHERE:  Charleston Area Convention Center, 5000 Coliseum Drive, North Charleston
WHEN:   Thursday – Sunday, September 15-18th.  10am – 7pm
VOLUNTEER: We are looking for volunteers to help with various tasks all 4 days of the event! Morning shifts take place from 9:30am - 2:00pm; Afternoon shifts take place from 2:00pm - 6:30pm.  All volunteers will receive free entry to the event and a *free* Green Heart t-shirt for volunteering!
TICKETS:  Tickets will be required to attend Thursday and Friday, with 100% of proceeds going to partner charities – Lowcountry Food Bank, Green Heart Project, and the Culinary Institute of Charleston. Tickets will not be required for Saturday or Sunday but guests may still purchase tickets for VIP access during these two days.
Find out more information and purchase tickets here: http://www.lecreuset.com/factorytotable.
Members of the culinary community are invited to a special 'Chef Sale' Thursday morning from 10am to noon.
"Le Creuset has been shipping cookware from our factory in France to our American headquarters in the South Carolina lowcountry for decades, and as we've grown we're proud to have become a more visible member of the Charleston community," said Will Copenhaver, Director of Marketing Communications. "When we discussed possible locations for a sales event of this scale, Charleston was the obvious choice. We want this to be a celebration of both our brand and of the amazing culinary community of this great region, and of course we're excited for people to get great deals on Le Creuset!"
Event Registration and Ticketing Powered by Event Espresso