Event Registration
Volunteer to build the Urban Farm at Enston Home
Description: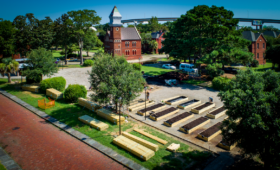 We're just a few weeks away from completing the 65 raised garden beds at the Urban Farm at Enston Home, and we need YOUR help! We are seeking individuals or small groups, able to work outdoors for 3-4 hour shifts, who can volunteer multiple times over the next 3 weeks.
•
WHAT? Help build the 65 raised garden beds at the 1/2 acre Urban Farm at Enston Home, where we will grow food, minds & community on the upper peninsula of downtown Charleston.
•
HOW? We will gather outdoors, in small groups, wearing masks, social distancing, and practicing meticulous sanitization to ensure our people are safe. Tasks may involve: constructing garden beds, cutting lumber, lining & supporting beds using power tools, filling beds with soil.
•
WHEN? We have shifts available Tuesday - Friday 8:30am - 12pm & 5pm - Dark, and Saturday 7am - 11am for the next three weeks.
•
INTERESTED? Fill out the build availability survey! Once we have your details, we will send you invitations to specific shifts, ensuring we can keep our numbers of volunteers small.
•
QUESTIONS? Email volunteer@greenheartsc.org
Event Registration and Ticketing Powered by Event Espresso