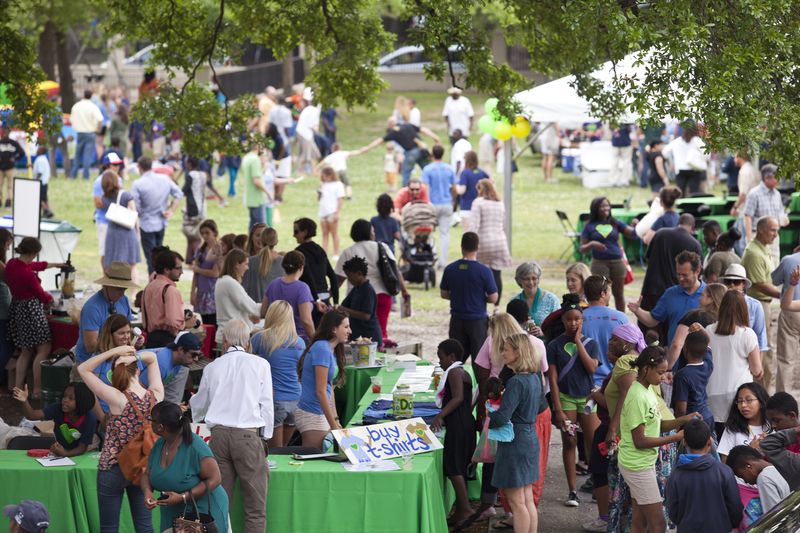 It wasn't all fun and games … it was delicious food, too. This year's 4th annual Harvest Dinner was an evening to remember. Not only did we surpass our expected attendance of 500 guests by a landslide (768 attendees in total!), we were also able to bring together our Green Heart community in a way that has never been done before.
With the help of so many generous sponsors and contributing community groups, the Harvest Dinner was much more than a celebration of our students' hard work in the garden. It was an opportunity for the students, their families, and community members to make connections with partners such as the Lowcountry Food Bank, The Burke Culinary Arts Program, Reading Partners, The BeeCause Project, Cooking Matters, and Whole Foods Market among others. It was a beautiful Charleston community gathering that felt more like a festival and block party rather than just a dinner.
One significant addition to the event was the Lowcountry Food Bank's Mobile Farmers Market, through which the Food Bank was able to distribute nearly 6,000 pounds fresh fruit, vegetables, snacks, and bread to the Mitchell and Charleston communities.
Not only did our guests get to enjoy the delicious offerings of the Lowcountry Food Bank, but our mouths are still watering thinking about all the incredible dishes created by the talented crew at Burke Culinary Arts Program led by Chefs Ira Hill and BJ Dennis and BBQ extraordinaire Jamie Westendorf. Each salad and side dish was expertly prepared and garden fresh, while the BBQ was the perfect balance of savory and smoky … needless to say we are already looking forward to next year's menu! Although our Mitchell garden contributed kale, pea tendril, radishes, and herbs – we could not have created such a feast without the generous support of Limehouse Produce, which supplied the majority of our garden-fresh veggies.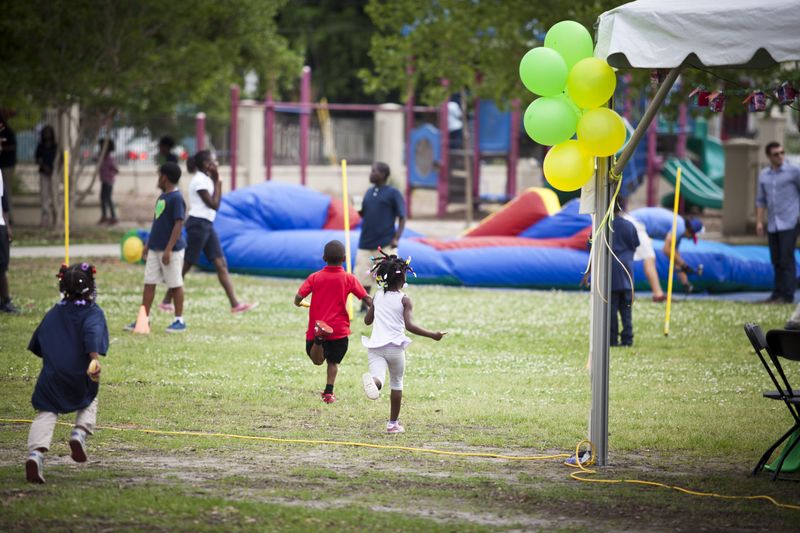 We washed it all down with delicious refreshments provided by The Juice Joint. These local business owners have been part of The Green Heart Project since its infancy in 2009, and we are so grateful for their continued generosity and for being this year's official beverage sponsor. Be sure to check them out and visit one of their many locations in the Charleston area.
To finish the evening on a refreshing note, local business King of Pops served our students 200 freshly-made popsicles. Those treats sure helped cool the kids down after a run through the jump castle obstacle course and rounds of bean-bag tossing in the student game section. We know the students had a blast and we are so thankful for the folks at Charleston Fun Factory for coming out and keeping the kids entertained and active!
But wait! The goodness didn't stop at the delicious food, drinks, and games! The night was made complete by wonderful entertainment by local acoustic duo Oh Valentino, in collaboration with local production company Treehouse Productions, who cranked out the tunes while everyone enjoyed the festivities and dinner.
There is no doubt this event came together thanks to the generosity and talents of so many different people, contributing organizations, and volunteers. We are overwhelmed with the support and generosity of all of our partners and community members who attended and made the evening so unforgettable. We already can't wait to start planning for next year's dinner … Until then, stay tuned for more exciting Green Heart things to come!
Gratitude from our green hearts to yours!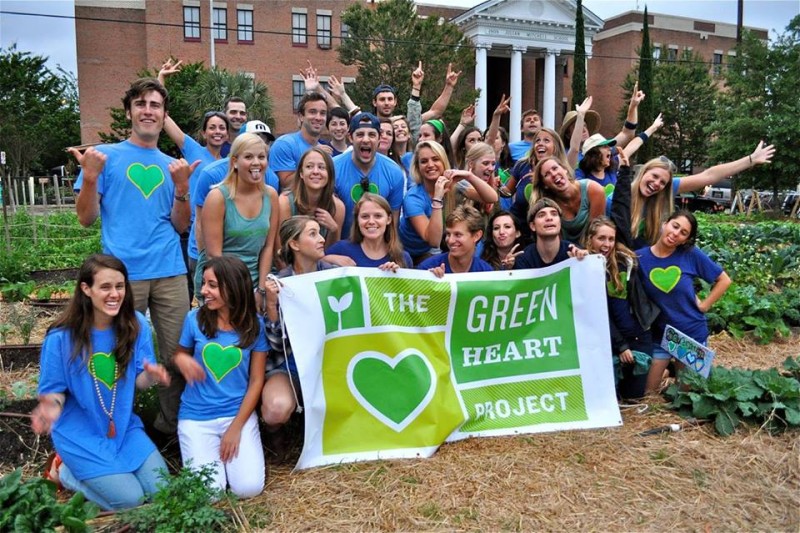 Comments on this post