It's October and that means it's time to celebrate, ghouls, goblins and ghosts, harvest moons and the changing of leaves, Food Day on October 24th, and last but certainly not least – Farm-to-School! October is farm-to-school month which is a celebration and encouragement for all schools to get involved, connect with local, seasonal food and join the movement to a healthier education and future! Below we've recapped a little bit more about the farm-to-school and how you can help us celebrate!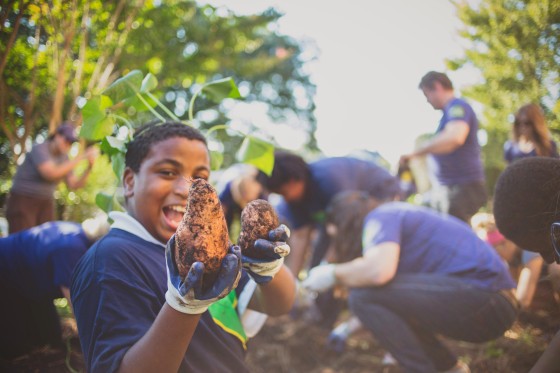 What is Farm-to-School?
Farm to school enriches the connection communities have with fresh, healthy food and local food producers by changing food purchasing and education practices at school… Programs include:
Procurement: Local foods are purchased, promoted and served in the cafeteria or as a snack or taste-test
Education: Students participate in education activities related to agriculture, food, health, or nutrition
School gardens: Students engage in hands-on learning through gardening 
How Does the Green Heart Project Engage?
The Green Heart Project builds garden-based experiential learning in the Charleston Area to educate students, connect people and cultivate community through growing, eating and celebrating food. While doing so, the Green Heart Project looks to cultivate a community of engaged citizens through volunteer mentorship and community development.
We have a large sweet potato harvest on the horizon, as well as eggplants, tomatoes, basil, herbs, kale and other fall crops all growing quickly. We also have taste tests and lesson plans in the works to engage our students in learning about local foods and their personal health!
What is Farm-to-School Month?
The National Farm to School Network advocated for the creation of National Farm to School Month by Congress in 2010, and they now organize the annual celebration with dozens of partners around the world. The month is made to celebrate the connections happening all over the country between students and local food. This year's theme is One Small Step, which highlights the simple ways that anyone can get informed, get involved and take action to support farm to school programs in their communities and across the nations. It aims to get people inspired, spread the word about farm to school and explore resources for promoting and planning celebrations within the community.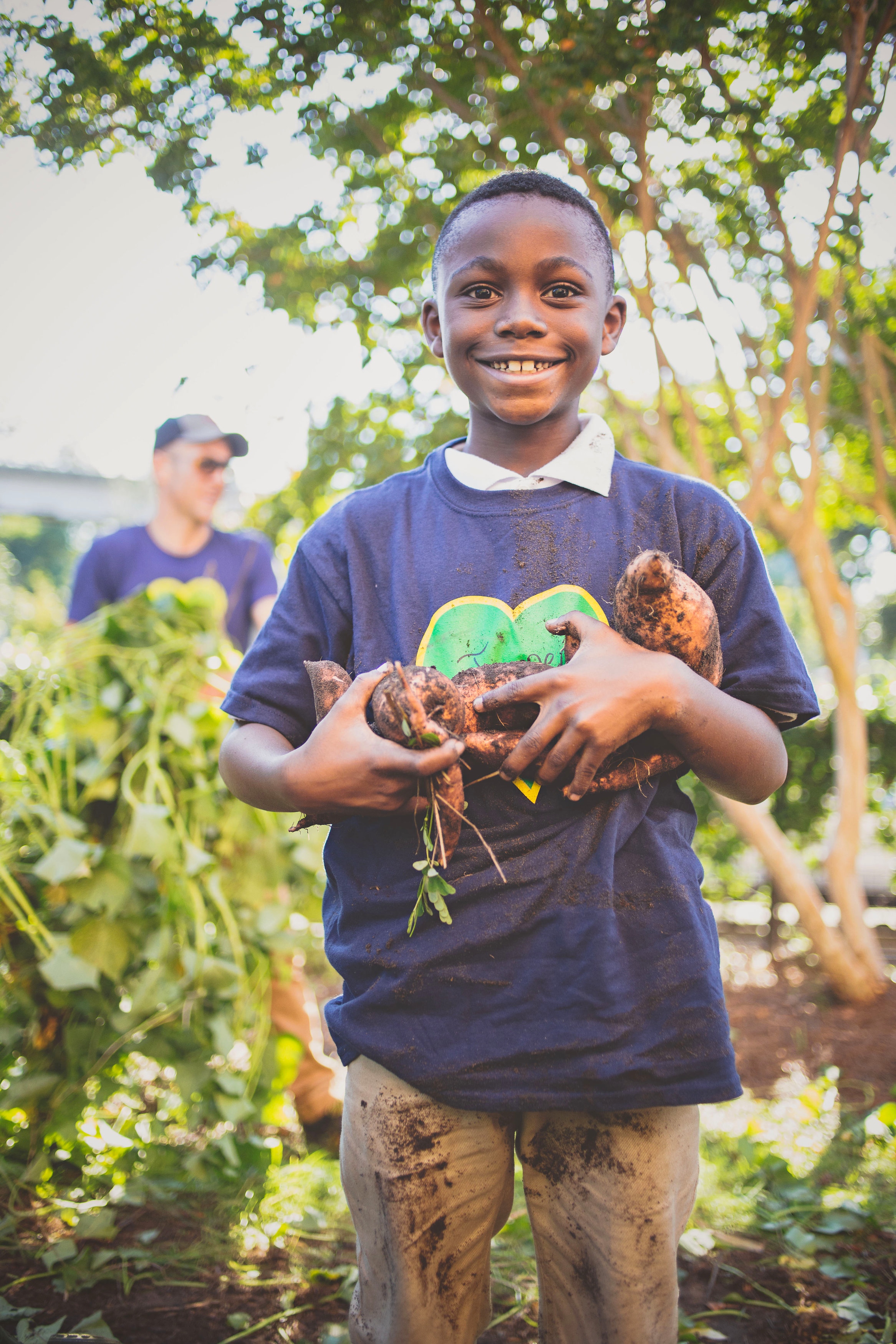 How can you get involved?
This year (and every year) we will have a large crop of student-grown sweet potatoes that we will harvest, cure, prep and serve to all of our students involved in our programs while celebrating the season, history and nutrition of these deliciously sweet tubers.  We need extra help in all facets and encourage you to sign up to volunteer! Check out our calendar – we have a  slew of ways to get involved!
And don't forget to follow us on Instagram, Twitter and Facebook and sign up for our newsletter to join in the Farm to School Month celebration and take "One Small Step" to a brighter, healthier education and future for our students.
Comments on this post