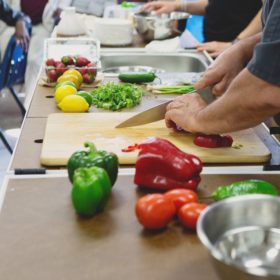 At the Green Heart Project our mission is to connect students to healthy food – whether that be through the garden classroom or the kitchen classroom.  We believe that cooking is just love made visible– and our big green hearts are filled with excitement to start serving up goodness in the kitchen this February!
Thanks to a generous grant provided by the TD Bank Charitable Foundation, and our partners at the LowCountry Food Bank and Share Our Strengths, we are able to offer 5 cooking classes this Spring! Each Cooking Matters class brings our Green Heart students and families together to learn how to cook healthy meals with nutritional, affordable, and delicous garden-grown ingredients.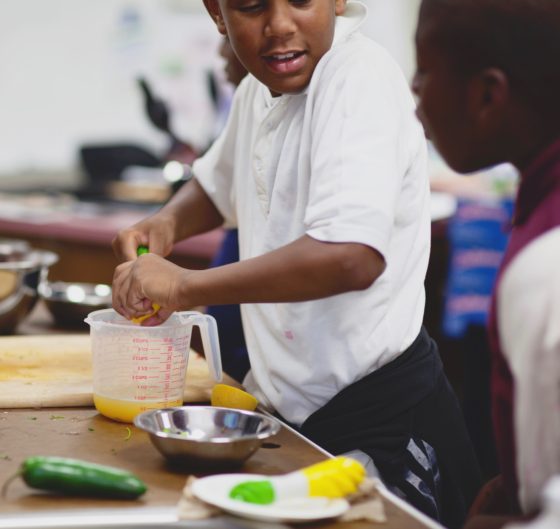 There is no better way to take what we've nurtured in the garden, and learn that with a little sizzle, flip, bake, and mince, we can treat ourselves to truly tasty recipes (that make us feel glorious too!). These classes provide an engaging, communal experience for our families, students, and Green Heart Buddies to bond while cooking up wholesome food.
Each class is run by a Green Heart program coordinator in conjunction with a MUSC dietitian and local Chef from our amazing food & beverage community. And what makes these classes even more awesome, is that our families get to take home a bag of fresh produce to recreate the recipe and meal in their own home!  Mitchell and Meeting Street Academy are beginning classes this February, and three more classes are pegged for March at Sanders Clyde and Meeting Street Elementary.
We are filled up with Cooking Matters volunteers for February, but if working together with our Green heart family to serve up something scrumpdilioucious to eat sounds as good to you as it does us, make sure to sign up to volunteer for March!
And we want to give another shout-out to theTD Bank Charitable Foundation – with so much #GreenHeartGratitude, thanks again for making it possible to offer these amazing classes to our Green Heart Families!
Comments on this post