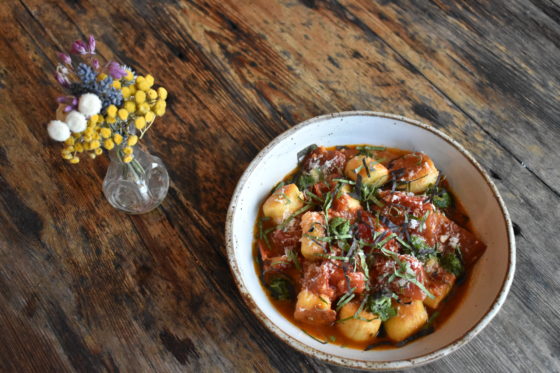 This past week, our Green Heart-grown basil showed its versatility at two more restaurants: Persimmon Cafe and Butcher & Bee. Persimmon utilized our sweet basil, while Butcher & Bee added a splash of color with our purple basil. Persimmon incorporated our sweet basil into two of its signature dishes: basil limeade and the zucchini special.
Butcher & Bee is known for using ingredients that are fresh and local, and in this case, that was our purple basil. They added our fresh basil as a finishing touch to a dish packed full of local ingredients; their gnocchi. Not only does our purple basil add a beautiful color to the dish, but it also adds nutritional value (more details in Part 1 of this series).
These gnocchi were some of the best I've ever had and I've had a lot of gnocchi in my day. The gnocchi were little pillows of perfection and they were tender as can be. The heirloom tomatoes and basil combo added a pop of freshness to the dish that really rounded everything out. I was trying not to eat the whole thing because I was going to dinner right after, but I couldn't stop myself; they were that good.
All of the restaurants who have utilized our basil so far have kept the flavors fresh and exciting. Stay tuned to see where our series takes us next!
Comments on this post