Sweet. Potatoes. The famed crop of the Green Heart Project gardens! Sweet, savory, creamy — delicious — any way you slice 'em. Follow the journey of this native tuber all the way from the farm to the bellies of our Green Heart Buddies. Back in May, our programs and garden teams planted sweet potato slips in all 6 of our school gardens in an activity we deem "planting for future generations [of Green Heart Buddies]." All summer long these tropical tubers grew wild in our gardens, doubling as a cover crop suppressing any weeds that may have popped up with all the rain we got. Fun fact: one sweet potato slip can yield anywhere from 3-5 new sweet potatoes, on average.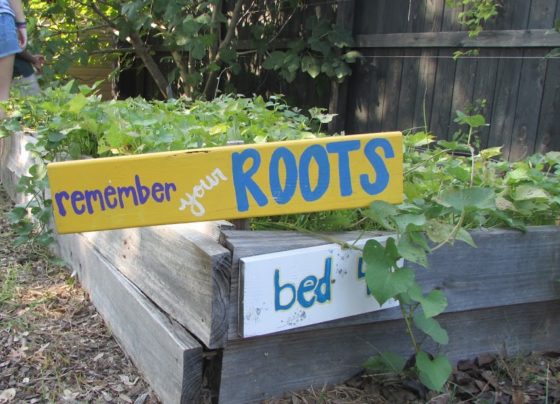 By the time October rolled around, our sweet potatoes were ready to be unearthed during our week long celebration we called The Great Sweet Potato Harvest of 2018. Last year we harvested just over 400 lbs of sweet potatoes that made it into 2 of our school cafeterias — this year, we harvested over 500 lbs, that will again be featured in school lunches!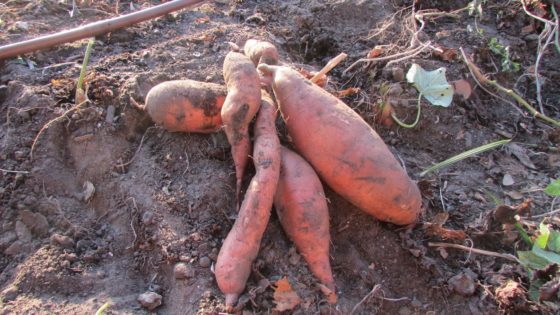 During this week our after-school programs all focused on sweet potatoes, learning about the history of this crop which is native to South Carolina and about the anatomy of the plant. Green Heart Buddies got their hands dirty digging for their bounty, accompanied by shrieks of joy when they unearthed their bright orange treasures.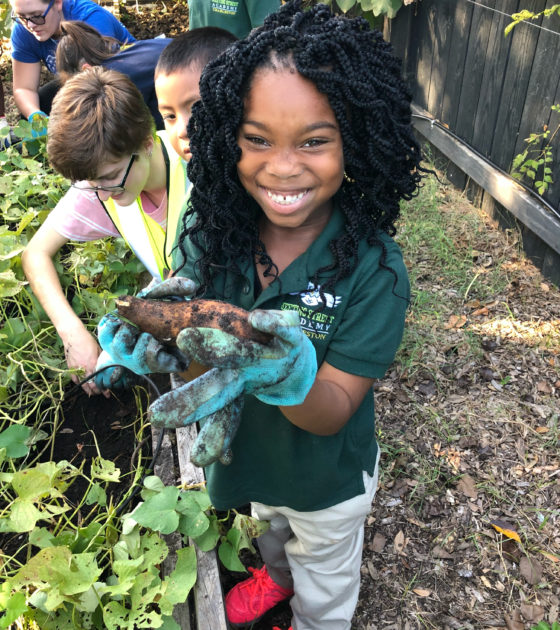 In order to finish the [large] task at hand, we held Crop Mobs (garden workdays) at all 6 of our school sites. At our largest site, Mitchell Elementary, we had volunteers from Holy Cow Yoga, Greens and Grounds, and middle and high school students from the Kids on Point after-school program. All showed up ready to dig in and cultivate community with one another. In total, our groups harvested over 520 lbs of sweet potato goodness!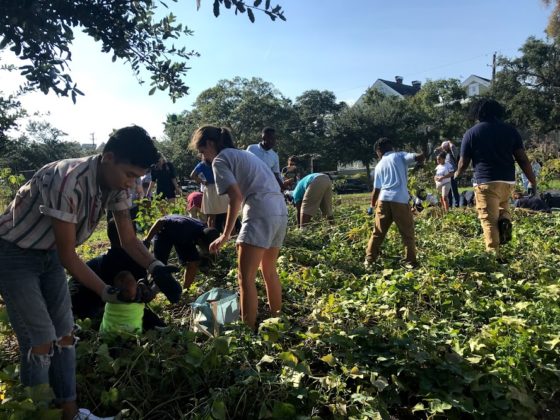 Another feature of our week-long festivities was a cafeteria taste-test and hands-on nutrition education session at Mitchell Elementary School. During lunch time, big Green Heart Buddies made their way into the cafeteria and set up a Sweet Potato Challenge table. Students compared sweet potatoes in their freshly-harvested tuber form to their baked chip form, and sampled plain and seasonal pumpkin spice sweet potato chips. They were challenged to practice mindful eating by using their 5 senses to describe their taste-test experience.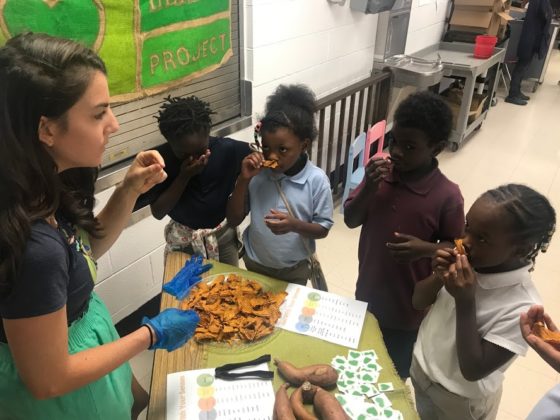 Jump ahead to the last week of October — after our potatoes have had time to cure and sweeten up — they will be served on the cafeteria lines at our schools. After-school program students will engage in their first culinary lesson of the year, creating a sweet potato hash together.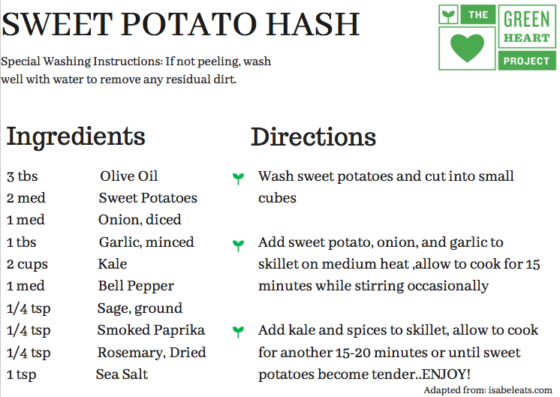 Our sweet potato saga will end in the bellies of our little Green Heart Buddies. Thanks to CCSD Nutrition Services, cafeterias plan to feature the same delicious dish, forging the connection from farm to their lunch tables.
We thank all who came out and supported our Great Sweet Potato Harvest and look forward to sharing the sweetness again next year!
Comments on this post