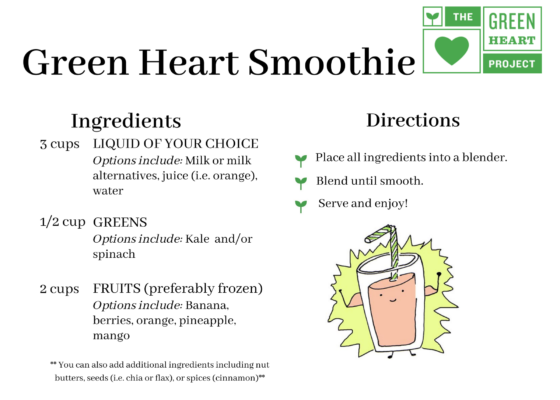 TODAY'S LESSON- Making Green Heart Smoothies
LESSON CONTENT- In today's lesson, we will join Green Heart Project Farm to School Program Coordinator and Garden Educator Allie for a culinary lesson on how to make a smoothie.
In this lesson, students will:
Learn how to follow a recipe to make a smoothie
Identify a variety of fruits and vegetables that can be used in a smoothie
Understand the process of making a smoothie
Practice trying new foods
MATERIALS– For today's lesson, you will need:
A computer, iPad, phone or other digital device to watch the video
A blender
Fruits, veggies and a liquid base to put into your smoothie
Measuring cups
MODIFICATIONS–
If you don't have a blender and/or fruits and veggies around the house, don't worry! Instead, follow along with this video and try one of the following modifications:
No blender- Try making a fruit salad or green salad using different fruits and vegetables that you have.
No fruits, veggies, or liquid base- Follow along with the video and brainstorm a few different smoothie recipes that you could make in the future or share with family and friends. Brainstorm a list of fruits, vegetables and liquids that you could use in a smoothie. From there, match up different fruits, vegetables and liquids that you could combine and give this smoothie mixture a name.
For example:
Tropical Punch: Pineapple, mango, kale and orange juice
Berry Blender: Strawberries, blueberries, raspberries, spinach and milk.
Happy blending!
Comments on this post