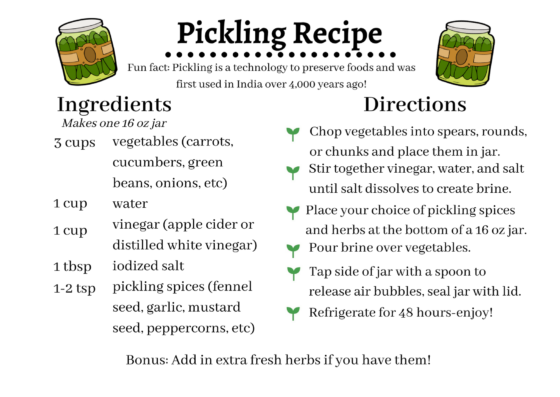 TODAY'S LESSON- Pickling
LESSON CONTENT- In today's lesson, students will join Program Director Amanda to learn how to pickle fresh garden vegetables. Students will:
Review a brief history of pickling technology
Understand why and how pickling is used to preserve foods
List different foods that can be pickled
Practice culinary skills including following a recipe, cutting vegetables and measuring spices
Create their own pickled vegetable mix
MATERIALS- For today's lesson, students will need:
A computer, phone, iPad or other digital device to watch the instructional video
Fresh vegetables, fruit or food to pickle
A jar (or other container- take out container, plastic Tupperware, etc.)
Water
Vinegar (i.e. White or Apple Cider)
Iodized salt
Pickling Spices (i.e. dill, celery seed, oregano, fennel seed, pepper)
A knife and a cutting board
Happy pickling!
Comments on this post